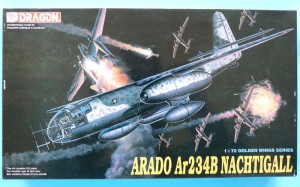 The Nachtigall (Nightingale) is a radar-equipped variant of the Ar-234 jet bomber. It is armed with an underslung pod with two 20mm cannon, holding 200 rounds per gun.
Well, this is what the kit basically is – an armed bomber. So sprue A holds completely uneventluf stuff – common parts like fuselage, horizontal stabilizers, undercarriage, and even recce cameras intended for the bomber.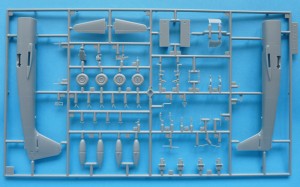 Sprue B has the wings, engines, and cockpit section – the whole nose is a separate unit to allow for construction of various versions. Each Jumo engine is made up by two halves, an inlet with integrally molded compressor face, and an exhaust "egg" – much similar to the Revell's Me-262 (or vice-versa?).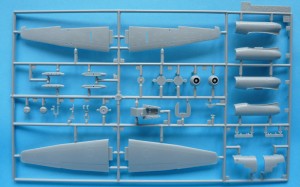 The fronts of the Walther rocket take-off boosters are also on the sprue.
Transparencies – pretty nice. Two identical pairs of side panels (lower right) – those with the holes are intended to mount the radar antennae.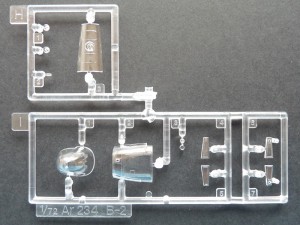 The big panel on the H portion fits the aft belly and is intended to cover the recce cameras.
Sprue N has the rocker booster bodies and supports (there's a broken detail here), and the main night fighter attributes – gun pod and radar stubs.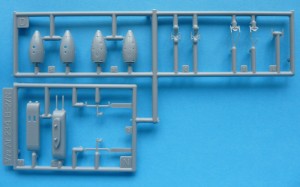 Etched fret and decals. PE is simple – radar dipoles, instrument panel and pilot seat supports, DF loop and FuG 16 ZY antenna. Japan-printed decals for just one variant (NJG I, no subunit indicated) – the kill markings are quite cute, if I might say.
To me the Arado 234 is an elegant and very different airplane, and this kit is a great opportunity to build it. With all the bits hanging from it (engines, guns, tanks, and boosters) it will be looking quite clunky… Yet I would very much like to have the night fighter in my collection for the camo and the kill markings alone 🙂
Just like the Me-1101 parts breakdown here appears simple and accessible, and details are represented adequately. Let's hope fit is as good as the looks of the part on the sprue.