A member of the "Golden Wings" series from the early 90s this kit represents a Luft '46 aircraft. Me-1101's partially completed prototype was captured by US forces at the end of WW2. It later flew in The States as Bell X-5, the first aircraft with variable wing geometry. The radar-and-missiles equipped night fighter you see below must only have been a paper-only project…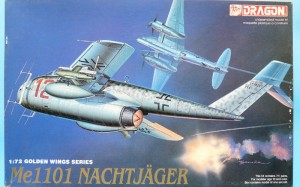 The original aircraft did not feature a T-tail, it might as well have been a Dragon invention. Anyway – liked the look of the thing and when opportunity came I snatched the kit off EvilBay. It arrived in excellent condition and revealed a curious packaging pattern – all sprue bags and the decals placed in a big bag stapled to the side.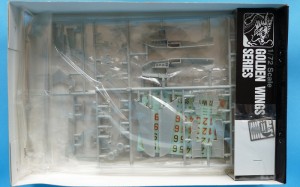 You can see the PE fret affixed to the box as well. Beyond the 3 parts for the IP and the side consoles it supplies the 8 dipoles for the radar, the DF loop and a very simplified representation of the FuG-16ZY underwing antenna.
74 parts altogether (as per box top), plastic ones molded in light grey. Sprue A has the main components of the aircraft.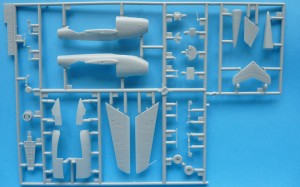 As the engine is intended to be displayed exposed the necessary panels are molded as separate parts. The horizontal stabs is a one-piece affair, as are the vertical one and both wings. These are quite thin on the real thing, so (despite my disliking for the pitot molded on the left wing) this solution is appreciated!
Looking at the other side of the sprue reveals the structure details on the inside of fuselage panels, and the sole attachment pin of the vertical stabilizer in the tail cone. Hmmm…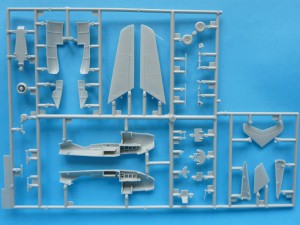 Cockpit looks bare, but the PE instrument and side panels should spice it up enough.
Sprue B has the engine parts, including separate turbine face and exhaust. Two Kramer X-4 missiles, two late-war style 300l drop tanks, the associated pylons and the radar antennae stubs are also found here.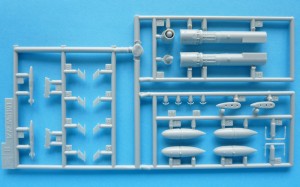 The canopy is a one-piece elliptic part, which is a little thick. Of interest (at least to me) are the decals, which are printed in Japan and look quite like Hasegawa issue.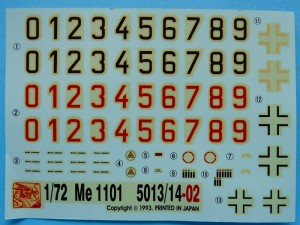 The years have taken their toll on the carrier film and it has yellowed, but the border on the black numbers is still discernible. I certainly would be happy to see these on my nightfighter! The kill markings are also a nice touch – two different sets are provided (I'd imagine the second set is for the day fighter).
Overall I like the kit very much – 18 years after it was announced it looks very much up to current standards. Parts breakdown is simple and logical, detail looks good, engraving is consistent throughout – appears to be a no-frills build, but this shall be explored by yours truly later on.