Russian kit manufacturer Zvezda has literally exploded with news during the past year. They've announced a massive ammount of kits in various scales – from 1/350 ships through a number of 1/72 war gaming (snap fit) sets to 1/48 aircraft and 1/35 figure sets and armor kits.
I am going to have a look at three WW2 72nd scale sets tonight that are intended to be used with Zvezda's own board gaming system "Art of tactic":
– German machine gun teams;
– the German 20mm FLAK 38 with crew;
– Soviet 37mm 61-K AA gun wwith crew.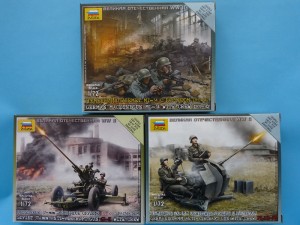 The sets are literally dirt-cheap. They all come in small (16 x 12 x 2,5 cm) side-opening, shrink-wrapped boxes with a hook on the back. They're all containing two sprues each, with a flag stick and a card for each unit. Germans are molded in grey, and Soviet sets in green.