One of the many helpers I've come to appreciate in recent months is Gunze Sangyo's Mr. Paint Remover. The clear liquid comes in a 40ml glass bottle with red cap and no brush inside.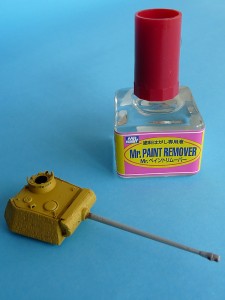 The test subject here is the gun barrel of a Dragon Panther G. It has been painted with Alclad Stainless Steel, then covered in a layer of Revell 37 to simulate the typical German tank red-brown primer. While painting the tank I didn't mask the barrel off, so it also received the yellow coat you see on the rest of the turret – a mix of Revell 12 (gloss) and 15 (matt).
I used a bit of the fluid on a cotton cosmetic pad and rubbed the part a few times – here's the result up close.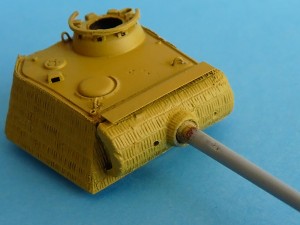 Upon inspection I couldn't find any damages done by Mr. Paint Remover. The dents you see are remnants of the sprue attachments, which I obviously need to fill!
Until now I've always used either 96% ethanol or Meglio degreaser to strip paint, and most of the time they work fine. However both fluids require much longer period to dissolve the paint, so Mr. Paint Remover will be the helper of choice for smaller areas.
Highly recommended.