The WWII Panther tank has become a legend mostly based on its looks and long gun rather than its combat record. This has prevented no manufacturer ever from producing a kit of it, and as a result the modeller today has a vast choice of kits to build. Other than the (generally) horrendous tracks the detail that gets your attention the most is the commander's cupola.  Renditions vary, but they are usually molded closed, in soft detail, and with vision blocks having see-thru effect.
Georgi from OKB Grigorov is offering a solution to those problems for your Panther fleets: 2 separate sets of 4 commander cupolas each for the Ausf D and the Ausf A/G, respectively.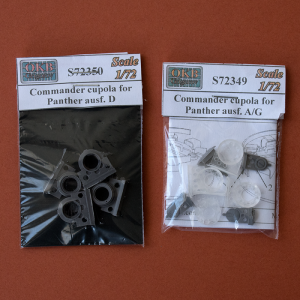 The first set is for the earlier Panther Ausf D and has 4 "barrel" type cupolas, with separate hatches made of thin PE, detailed with handles. Note the cupolas feature interior detail – all of the vision blocks are cast on the inside, and you can see the thick glass is surrounded with a ridge, so there's no need to fight small PE pieces:
The Panther Ausf A/G cupola is cast from transparent resin, so the vision blocks look like glass ones on your model. Note that instead of a solid casting the periscope guards are provided as separate PE details, as is the machine gun ring, and the hook for said machine gun, and the support for the commander's hatch in the open position.
I tried to show the inside detail, but am afraid that until the detail gets primed – I won't be able to see everything myself regardless of the light conditions, so apologies for not giving you the full view.
The only detail missing is the grab handle on the hatch's stub, but if made of PE – it would be too flat as opposed to the circular rod on the actual tank.