As you are aware OKB Grigorov is also offering the so-called "Mammoth edition" of their injection molded M24 Chaffee. There are several PE frets and a machined brass gun barrel included in that boxing.
First off are the side skirts. You've noticed in my original review of the plastic parts that the skirts are represented in styrene, and that their edges are beveled to appear visually thinner. For those of us who are not satisfied a fret numbered P72017 offers replacement side skirts complete with fastener detail.

Another additional set includes hull, turret and machine gun detail. There are front steps for attached to the final drive housings at the front, fender supports, M2 tripod, handles, ammo bells, boxes and support,  etc. on 2 thin brass frets. The set is coded P72017 and looks like so: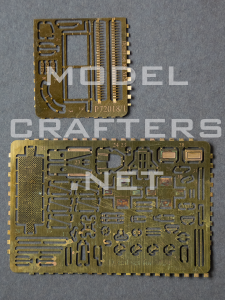 I don't have the complete understanding of all the parts yet, but these renders should help (orange denotes PE parts):
Another fret hosts the turret bin – it features no OKB SKU:
When assembled it should directly replace the plastic assembly at the rear of the turret like so:
Last but not least is the machined brass gun barrel. Note the shape of the muzzle ring, and the overall taper towards it. At the rear end there's reverse taper to help you install the gun into the mantlet, so looked from the top the part sort of resembles  a baseball bat.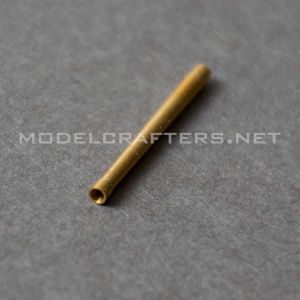 It kind of suits the Chaffee, as the tank was no stranger to actual gun duels with enemy armor. Note the M6 was fitted to M3 Lee and M4 Sherman medium tanks, so the M24 packed a significant punch for its size.
In conclusion this set of metal upgrades will further enhance the appearance of your M24 kit, and the bin will add one more poseable element to your build.