The Soviet BRDM-2 family of vehicles (Boyevaya Razvedyvatelnaya Dozornaya Mashina, Russian for "Combat Reconnaissance/Patrol Vehicle") is based on an armored 7-ton, 4-wheel drive amphibious chassis.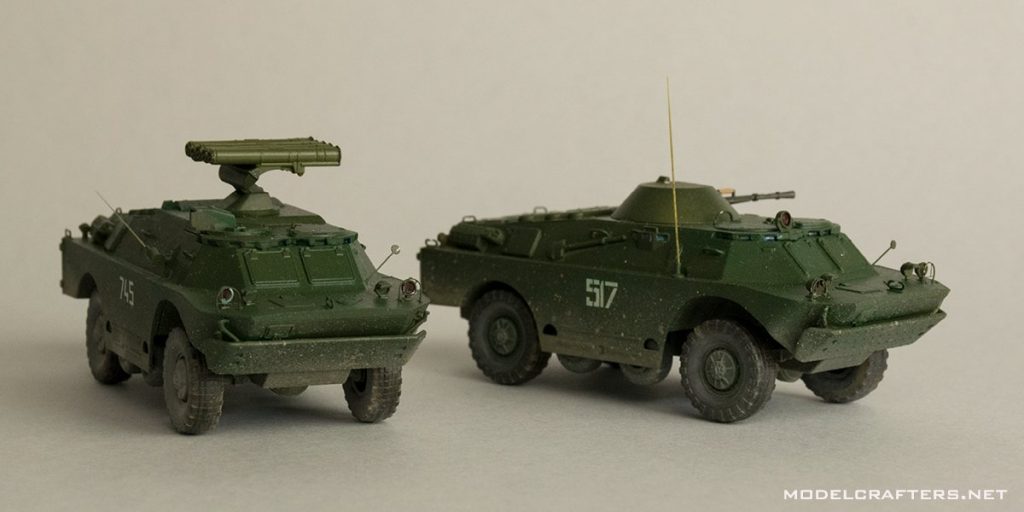 It features a pair of retractable chain-driven wheels on each side, that can be lowered to help with trench crossing. The most numerous variant features a cupola with a 14.5mm KPVT machine gun with a coaxial PKT 7.62mm which is available in the S-Model kit. The chassis also was used as a basis for chemical recce machine, a command vehicle, a short range surface-to-air missile (quadruple 9K31 Strela) and an ATGM carrier with quintuple 9M113 Konkurs launcher, known as the 9P148 that you also see featured here.
The kit has parts for 2 BRDM-2 vehicles, as well as the launchers and sight cupola for the Konkurs missiles, but not the specific roof, which I scratchbuilt from pieces of 1mm plastic sheet. If you want to build the 9P148 you will also need to plug the forward right hatch (more precisely than I did), and place the sight assembly on top of it.
Being intended as a "quickbuild" issue the kit requires some sanding and filling, and if you're looking for the perfectly shaped hull you'd have to shop elsewhere. The hull bottom and drivetrain are noticeably different from the real thing, as is the tire thread pattern. On the other hand you can assemble of these in about 30 minutes, so it's entirely up to you.
Again this is finished in Revell enamels, some MM Gun Metal, oils, and Agama pigments, mixed with Vallejo matt varnish for the final dirty-up.
As kit decals use a contemporary font untypical of the Warsaw pact era I used my favorite sheet – New Penguin's Airborne Combat Vehicles Markings 72002, now sadly OOP.
Enjoy!