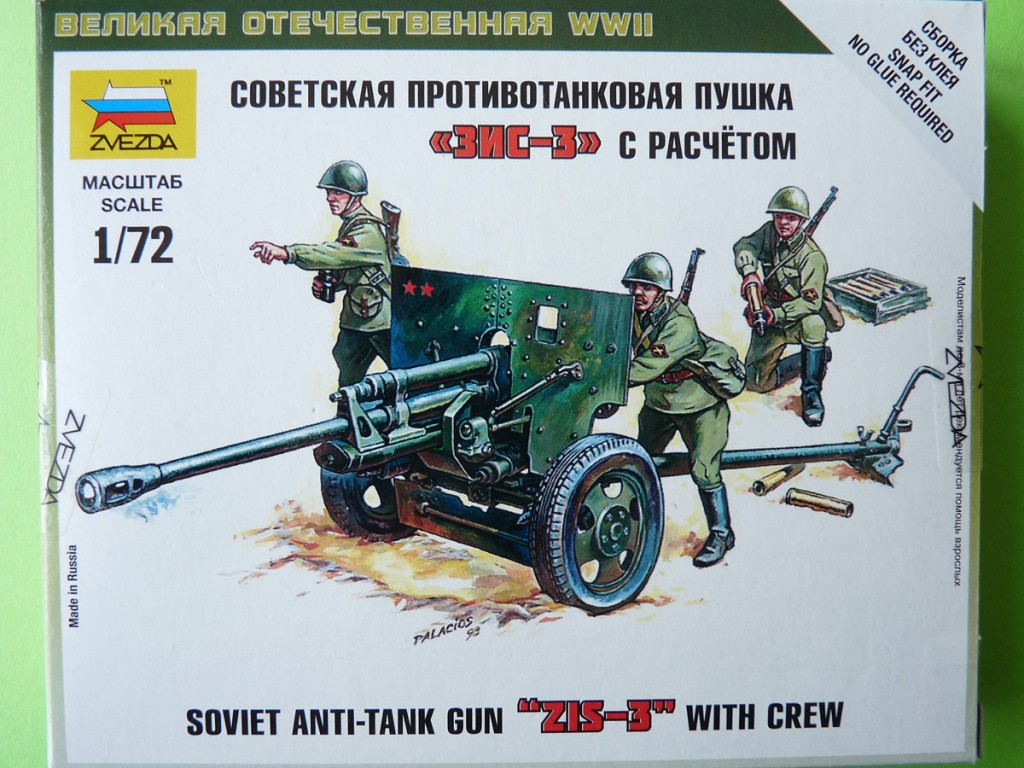 The Soviet union started the war with the F-22 and USV divisional guns as the mainstays of its artillery. In 1942 they were replaced by the lighter, faster-firing and more modern ZIS-3 design that was more suited to war time production and maintenance capabilities of the vast country. Over 45,000 guns were built during war years; many were towed, some served on anti-tank SPGs like the SU-76 and SU-76M.
Italeri and UM have already produced kits of the subject, the first one even included crew in winter uniform. My personal opinion is that either kit suffer from oversimplification, so the kit from Zvezda is a welcome addition to the market despite positioned as the wargaming piece that the Italeri rendition is.
The kit is molded in dark on two sprues, and includes a 3-man crew plus base.
However the model appears to be well-enough detailed for a no-glue assembly one, there is no mold shifting or flash. The detail on the gun shield is cleanly molded, as are the teeth of the elevation mechanism. The macro shots don't actually do the molding justice.
No doubt the thickness of the shield is far from being to scale (~0.7mm). There are 2 storage boxes and a separate gun sight, elevation and traverse handwheels.
To be fair, I must admit that the greyish spots scare me a bit – that is despite being unable to feel them when touching the kit surfaces. Looks like the plastic got overcooked either on this shot or a previous one and the molds were dirty. Oddly enough they are mostly evident on the shield, gun barrel and sprues themselves – I did not observe spots on the crew.
The wheels are the same for the GAZ-AA truck, and good enough for an $3 wargame kit – note hexagonal bolt head detail.