Using OKB Grigorov's resing parts has been very easy. In fact with the help of a hair drier I was able to bend the track run around the wheels and get some sag on the track. The track run retained its shape so well it could hold the wheels in place with no glue whatsoever!
After the track was painted I started weathering the wholes assembly, and added some "volumized" mud on the hull, which requires some pigment powders to look like the real deal (dry mud).
A small detail – Albion Alloys copper tube used for the exhaust pipes: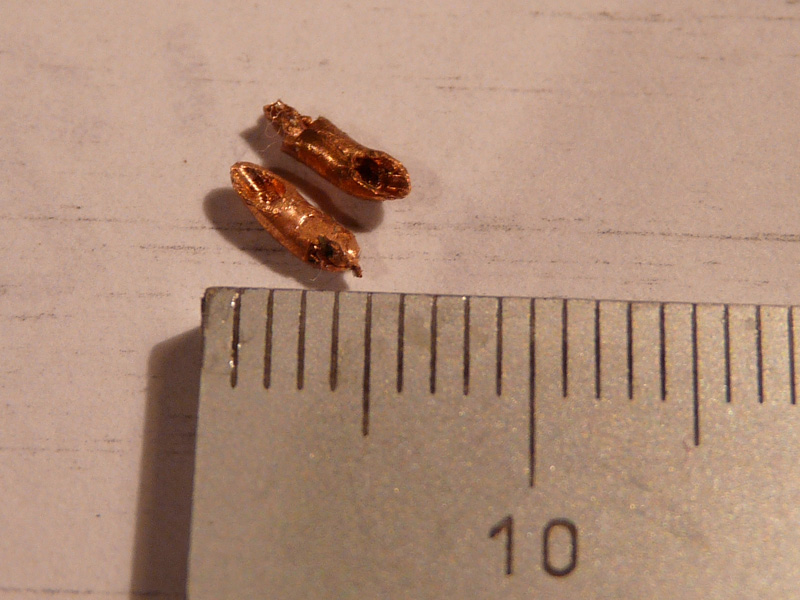 Despite being relatively soft, I would still recommend that you anneal the copper tube by holding the section you want to bend over a gas cigarette lighter. This will help further soften the metal, and of the tube got squashed/flattened in the process of being bent – you will be easily able to fix this using an awl. The unruly edges were used to hold the pieces for painting and weathering and were later trimmed to ease insertion in the exhaust guards (which as you remember were hollowed out in the beginning).
Next – some paint and weathering over the vehicle.
Mudguards are made from aluminum baking pan, painted and scuffed to show some metal underneath.
The finished article, now complete with Elf headlights.
Well, even though it is not really accurate, and is missing a lot of details, building and finishing this kit was certainly fun 🙂
At the end – a few size comparison shots…