Well – happy post #100 to me 🙂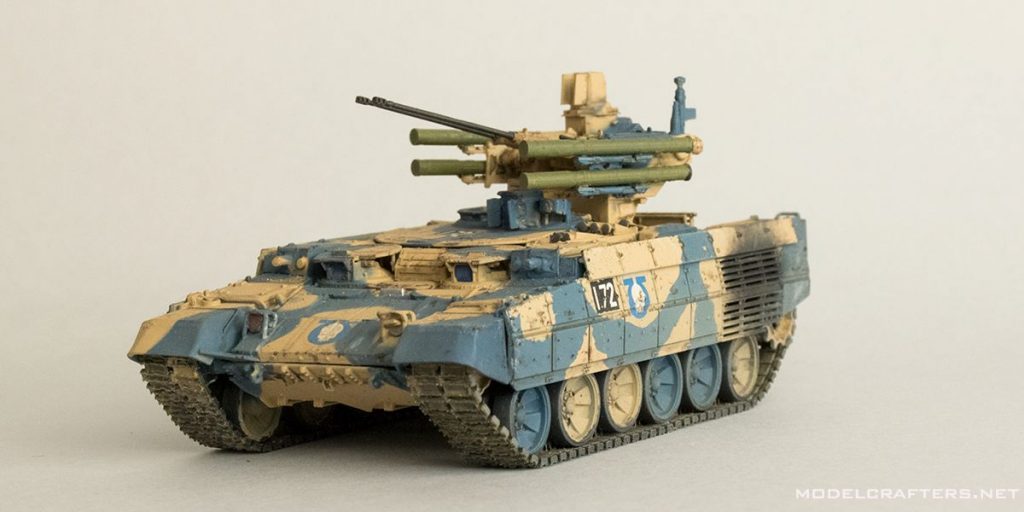 The BMPT (marketing callsign "Terminator") is a Russian fighting vehicle, based off a T-72/T-90 chassis with a 5-man crew. It is intended as an urban warfare vehicle supporting main battle tanks and infantry. Armament consists of
4 Ataka ATGMs on the turret sides (up to 6km range),
two 30 mm 2A42 cannons (known from the BMP-2) in the center,
and a PKTM machine gun (7,62x54mm) at the top.
Two AGS-17 grenade launchers in the front sponsons further add to the firepower.
The machine is clad into reactive and bar armor from all sides, and the kit represents that very well. Not everyone "gets" the vehicle (even the Russian MoD hasn't ordered any), so the only customer to date is Kazakhstan. Since I am tired of seeing the same 2 examples in reports from arms expos and the thing looks a bit too post-apocaliptic – I devised a scheme of my own. Markings come from Dragon Humvee set and a Space Marine set.